A Natural Winter Play Ground
Ski Lessons, Back Country Tours, Cat Skiing, Snow shoeing and much more!
Ski, Snowboard or take in a relaxing winter vacation in Niseko Japan with us at Holiday Niseko.
Snowboard or ski incredible powder all day or enjoy your first day ever on the slopes, cruise the groomers, fly through the forests, hit the parks, tour out of our backcountry access gates or take a lesson to improve your technique. The Niseko United  has a diverse range of off piste terrain and groomed runs for all levels. The resort is very well kept and the in-bounds steeps, trees and pillow lines are as world famous as our amazing snow depths and snow consistency.
With a long 6 month winter season and an average of 14 meters of annual snowfall, you will be in powder heaven. The Niseko United area includes the four resorts of Hanazono, Grand Hirafu, Niseko Village and Annupuri and can be skied or snowboarded with one All-Mountain pass. The All-Mountain system has a combined total of 57 runs, 29 lifts and gondolas plus a free shuttle bus service to get you around the mountain and villages comfortably. In Niseko you can experience some of the best powder skiing in the world, enjoy night skiing, taste incredible food plus enjoy a unique cultural experience
Lessons
Niseko is a fantastic place to learn to ski or improve your technique, soft snow, a fantastic lift system, excellent learners facilities and excellent providers. Holiday Niseko can book you first time lessons, adult group lessons, kids group lessons or private lessons tailored to your level. Lessons begin at either Hirafu or Hanazono and if you are interested in lessons at Hanazono a bus service is provided.  The minimum age for children is 3 years old and lessons are available in a number of languages.  Lessons begin at the base of the Ace Family Chair, Hanazono or Hirafu Gondola Base. In some cases private lessons can start from different areas and some providers will include a pick up from your door. If you'd like to know more about lessons please feel free to contact us anytime (frontdesk@holidayniseko.com)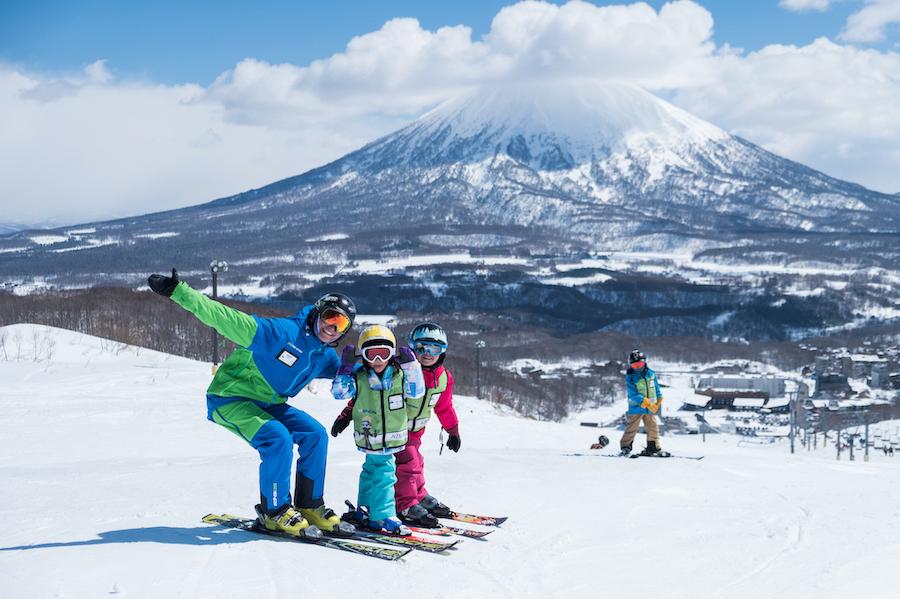 Holiday Niseko can arrange lessons for the whole family with access to the best providers.
Guided Back Country Tours
Find the freshest lines on a Niseko backcountry tour. Snowboarding and skiing Niseko's in-bound lift-accessed terrain is amazing, but outside the ski area lays the real adventure. Our operators know the area like the back of their hand and will take you to the best snow and terrain to suit your level and needs. The Niseko United area has a a backcuntry gate system which is open to the public but if you haven't been here before a guide will make find those incredible turns all the easier. If you are looking to explore off the beaten path a little further our operators will take you to where you need to be for an authentic Niseko powder experience whether you are looking for a multi day guiding or just a few hours. Touring locations include Mt Yotei, Iwao Annupiri, Nito Annupuri, Shiribetsu Dake, Asahi Dake and many more incredible locations.
Cat Skiing
Want some snowy space around you to make your own tracks but with out hiking all day to get it? How about a mountain all to yourself and your friends on a cat skiing day in the Niseko area. Cat skiing tours get you into zones that would otherwise be almost impossible to access. Let us at Holiday Niseko set you up with one of the great cat-skiing operations offered on the near by mountains. Nearby cat operations include Shimamaki Snow Cats, Chisenupuri Snowcats, Niseko Weiss Snowcats and Iwanai Resort. 
Cat skiing is an incredible way to experience Niseko's world famous back country powder skiing.
Other great Niseko Activities
Snowshoe tours
Snowshoeing through Niseko's deep powder is a popular off-hill activity that everyone can enjoy. Strap on the floating shoes and get a nice work out on a scenic walk through the beautiful forests of Niseko. Check out the local wildlife and tracks left behind in the white snow and have a picnic lunch at the foot of Mt. Yotei on the frozen Half Moon Lake. Tours vary in length and destination and will be decided by each individual group.
Let us contact an outfitter and organize a great day tour on snowshoes for you and your crew.
http://www.nacadventures.jp/en/tours/snowshoe-tours
Cross country skiing
A Niseko cross country ski tour lets you explore quiet areas of Niseko that not many other people get to experience. The sounds of you and your skis in the tranquil surroundings of Niseko will fuel your full bodied workout. 
Snowmoblie rental and tours
If you need a day off the slopes to relax those legs and still want snowy face shots and a thrilling day on the snow, try snowmobiling. There are options from family tours to exhilarating back country journeys around Niseko's vast landscape.
www.nisekosnowmobileadventures.com/
Onsens
The best way to unwind after a long day on the slopes is bathing in the mineral rich and warm volcanic water in one of Niseko's many Onsens. With great number of onsens in the area open to the public year round, you have many options to choose from when it's time to relax and revitalise. The average price is around ¥700 and includes showers facilites, both gender changing rooms and a small modesty towel. Follow the etiquette and enjoy the theraputic effect our onsens will have on your body.
Winter horseback riding
Take the family out for a fun gallop on the backs of these gentle animals. Let the horses break the trail as you take in the scenic Niseko landscape. We would be happy to line you up with a fun day out winter horseback riding.